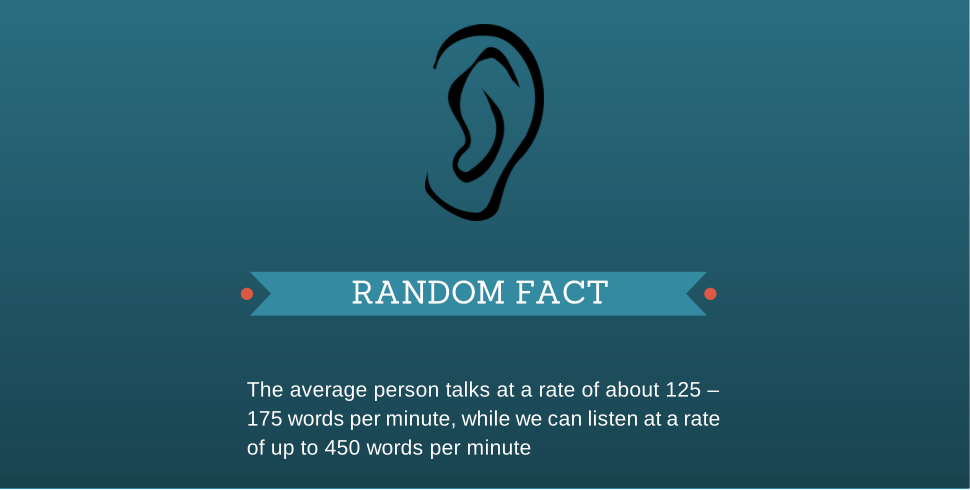 Of all the forms of communication, listening is what we do most. In our everyday activities we spend about 50% of our time listening. Yet effective listening is the skill we have the least training in.
Some listening facts:
In a spoken message, 55% of the meaning is translated non-verbally, 38% is indicated by the tone of voice, while only 7% is conveyed by the words used
The average person talks at a rate of about 125 – 175 words per minute, while we can listen at a rate of up to 450 words per minute
Listening has been identified as one of the top skills employers seek in entry-level employees as well as those being promoted
Immediately after listening to someone, we only remember 50% of what they said and in the longer term this reduces to 20%
– compiled by the International Listening Association (www.listen.org)
Listening, really listening, is hard work. It requires active participation in the conversation rather than just passively hearing what our companion has to say. It also requires us to be disciplined – to restrain our urge to speak, to know when to be quiet.
Many times in conversation we listen only in order to respond. We can't wait for the other person to finish what they have to say, or just draw breath, so that we can jump in with our own ideas and opinions.
Bernard Ferrari, in his article on better listening for the McKinsey Quarterly says,
My guideline is that a conversation partner should be speaking 80 percent of the time, while I speak only 20 percent of the time. Moreover, I seek to make my speaking time count by spending as much of it as possible posing questions rather than trying to have my own say.
So how can we become better listeners? It requires practice and for some, a change in behaviour. But it is a skill that can be learned.
THE PROBLEM WITH INTERRUPTING
(A cautionary tale)
She said I couldn't love you
He snapped a quick reply:
You said you did, you lied to me, but then all women lie.With that, he gathered up his things and spewed a harsh goodbye.
She would have loved him always, but he had one awful flaw.
He interrupted her every sentence, her every little thought.But oh, how she cried when he walked out the door.
The rest of her sentence would have been more!
Linda Eve Diamond – 
The Beauty of Listening
Most of us hear very well. Effective listening however, takes self-awareness and perhaps for many of us, a change in behaviour. But isn't it worth the effort if the rewards are better relationships, closer friendships and success in life and work?
Please join the discussion …I'm listening!