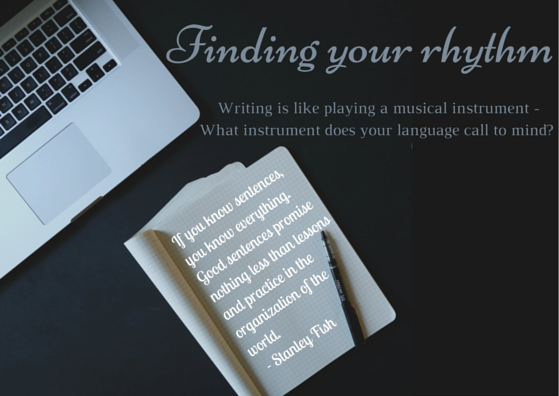 When you have written something, whether part of a story, a poem, an essay, an opening for a longer piece, anything that feels like it might be a keeper—listen to it. What does it sound like? Read your words aloud…Pay attention to the way the language moves. Is it creating the effect that you're after?                                                                      

~  Dani Shapiro
As all writers know, sometimes the words come easily, but at times finding your rhythm seems impossible. Looking at the words on the page is always (for me, anyway) an exercise in censorship. What's the best word to use?  Do the sentences read well? Does the piece flow logically?
But this type of censorship can slow you down. It can even bring you to a grinding halt, jolt you out of the chair and send you running from the room to do something, anything else. But all writers on the practice of writing say that you must stay in the chair.
And continue to write.
Every day.
If you're struggling to find your rhythm, Shapiro, in her book  Still Writing – The perils and pleasures of a creative life, gives us a piece of useful advice:
Read your sentences out loud.
She says that hearing the words, the way the language moves, will tell you if you've created the effect you're trying to achieve. She compares the rhythms in a piece of writing to a musical instrument.
"What instrument does your language call to mind?", she asks. Does it sound like…
…Fluid sentence-rivers, carrying us along on a current of commas, faster and faster until we are nearly breathless…Or the clean staccato beats of Hemingway, a period like a knife jab in the gut. What instrument does your language call to mind? A cello? An electric guitar?An oboe? Are you writing a concerto? A symphony? A lullaby?
Ok, so maybe to begin with it sounds like an off-key tune, even the scraping of nails against a blackboard, but just like learning an instrument, practice makes perfect.
Change a few words and remove the unnecessary bits and read it aloud again. Continue to edit your piece until the beautiful strains of a violin, or a guitar melody, or drum beats rising to a crescendo echo in your ears.
Listen to your sentences and you will begin to hear the rhythms of your own voice.
Happy writing!