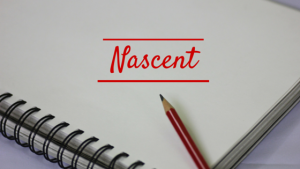 Nascent  [nas(ə)nt  / neɪs(ə)nt]
Adjective
1. Just coming into existence and beginning to display signs of future potential.
Synonyms: emerging; beginning, being born; emergent; budding
2. (Chemistry) Freshly generated in a reactive form
Origin
Early 17th century: from Latin nascent– 'being born', from the verb nasci.
Example
Her nascent career shows great potential for the future.