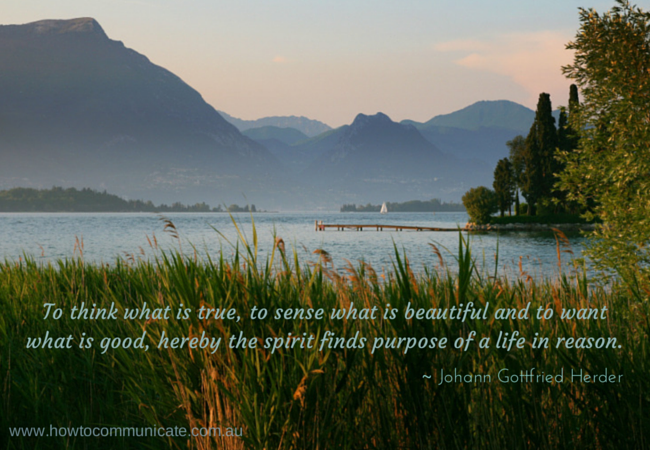 With the barrage of information being hurled around today, you could be excused for asking, "what's the purpose of it all"?
You may well ask.
Do you know your purpose?
This isn't a philosophical question about life but a question about authenticity and critical thinking, about reflection and consideration. It's the question we should ask ourselves before we put pen to paper, before we open our mouths, before we hit the Send button.
It is the first question I ask in my effective writing workshops. Usually, it's addressed to people who have the task of writing for their jobs and organisations. But the internet and its plethora of social media platforms have created writers of all of us. Well, not so much writers, but content producers.
And boy, do we produce!
The average Facebook user creates 90 pieces of content each month, according to Brian Solis, with more than 30 billion pieces of content (links, news, blog posts, notes, photos) shared each month.
That's a lot of content!
And it seems we are in such a hurry to share and give commentary that we forget to ask ourselves a fundamental question before we start tapping on our keyboards or screens:
What's my purpose?
Or to put it simply:
1. Why am I writing (sharing, commenting on) this?
2. What do I expect to achieve by writing this?
We live in a world where the rapid response has become accepted and expected. But this doesn't give us time to think, to reflect for a moment before we hit those post, share or send buttons. And because of our fear of missing out and our insatiable appetite for information—any information—we are not discerning about what we consume, and we don't consider before we share.
Perhaps that's why there is so much irrelevant drivel out there. We want to be heard, we expect admiration and we demand reinforcement and validation.
Constantly.
Cyberspace, newsstands and bookstores are littered with the irrelevant and the fatuous. Let's not add to the barrage.
Of course you should share holiday photos and news on Facebook with friends and family. Or express opinions about what's happening in the world. But before you write, comment or share — take a moment to consider, to reflect on your purpose.
And this is not just for for those of us who write for our jobs. It's for anyone who writes — be it a Facebook post, an email to a friend, a complaint letter, thesis, report or your potential best-selling novel.

Your purpose could be to:
entertain
inform
explain
deliver news
describe
reassure
persuade
You may have another reason for writing  but whatever you write and before you share — be authentic, considered and above all, know your purpose.
Do you think we share too much? Drop me a line with your thoughts. All comments welcome 🙂